I made this page to introduce myself to you.

If you want to skip it and go to the rest of my site, just go to the site directory.

That's me on the left, up on the roof of the house in Rehoboth, Massachusetts, USA, where I grew up.

Here I am in 1997, on the Tonle Sap lake in Cambodia.

Don't I look like someone you can TRUST?

Well it's true.

You can.

What I've been up to
Since October 1999 I've been living in New York. You can classify me as any or all of the following:
Journalist:
I was managing editor of The Cambodia Daily, Phnom Penh's newspaper of record, and briefly ran two other newspapers in Cambodia. Click for some comments on working at the Daily, Cambodia news articles and opinions, and my Cambodia page.

For a variety of samples of my work, check out my online portfolio.

Lately my sister and I have been getting our feet wet in local journalism, through the unlikely venue of the Stranger, Seattle's alternative weekly. Here are our April 8, 1999 and May 13, 1999 letters announcing our Reader's $10 Give-away. You have to scroll down after you click the link.
Political activist:
I worked with CISPES, opposing US policy in Central America in the late 1980s and early 1990s; on reproductive rights for women; and to a lesser extent with ACTUP and on housing issues in Philadelphia.
For the Philadelphia Unemployment Project, I worked on health care for low-income and uninsured people, and organized support for single-payer health care reform.

For almost a year in Cambodia I did communications for the Sam Rainsy Party, Cambodia's democratic opposition. The SRP is one of the three main political parties in Cambodia, where the battle against dictatorship sometimes becomes a battle against the absurd. Insults to logic pile up as fast as the bodies of the dead, and both of those pile up especially fast during a national election, which is what we went through. Or something like an election, anyway.

Here I am quoted in E-mail is a real revolution (Salon magazine, March 15, 1999) , by Kyra Dupont and Eric Pape.

And here's a letter printed in the Bangkok Post on May 4, 1999. You have to scroll down after you click the link.
Rock star:

Finally, I lived the dream--as lead singer of Spank, the seminal Cambodia-based rock band of the late 90's. Next gig set for May 2000 in Cornwall, England.
Traveler:
Visit my Camera Obscura, with travel tips and notes for various lands.

Before I moved to Phnom Penh in 1995, I had lived in Philadelphia for almost twelve years. I moved there to study at the University of Pennsylvania, and then lived in West Philadelphia. I also worked for Penn itself for a while. If you want a detailed resume, just ask for one--there are plenty to go around!
---
More clues
Biella, where the Italian side of my family lives. (Check out our new Garella home page!)
Here's a page on Khazaria, and a glossary of Yiddish.
Make a note of December 16th, Providence, Rhode Island, and Classical High School, as well as the Philomathean Society, a student organization at Penn. Here's a good profile of Philadelphia.
---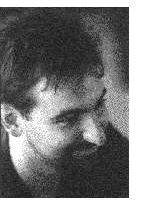 go to top of this page

e-mail me your comments