Life in Cambodia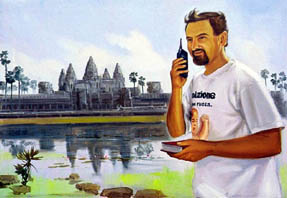 I lived in Cambodia for about four of the last ten years, from July of 1995 to September 1997 and from February 1998 to February 1999, and returned to visit from February to April 2000 and to work from February to August 2003.

Cambodia links
When I left Philadelphia for Cambodia in 1995, there were only one or two Cambodia sites I could find on the web, and soon, this joined them as one of the early ones. Now there are too many to catalog. Here are some useful ones.

The grand-daddy of Cambodia information sites on the net is the Cambodian Information Center, but some of the links there are getting outdated. Chhai Thach's Cambodian Internet Guide, a more recent entry, is well-organized and comprehensive, but also getting dated. Kampuchea Internet is another general site.

For general information on Cambodia -- brief background, stats and so on -- try NationMaster or Wikipedia.

The first Internet servers in Cambodia went on line in May 1997: CamNet and Telstra's BigPond, which has since evolved into OnLine. For some early history, read my articles on Cambodia and the Internet.
News
Current Cambodia news right here!

The Phnom Penh Post is on line, though you have to pay to see most of it.
The Cambodia Daily, where I used to work, started a limited web site in late 1998. The news content of the site is growing--slowly--and now there are some feature stories, but nothing like a searchable database. Falling a bit behind the Times...
There is also a site for the Bayon Pearnik, a travel, humor and culture magazine that injects some much-needed levity into the Phnom Penh scene.

More:

CamNews e-mail distribution list and/or the Cambodia News Yahoo Group. You will receive a few messages a day, including wire service reports, press releases, and occasional articles from publications, along with notices of new books on Cambodia, and more.
History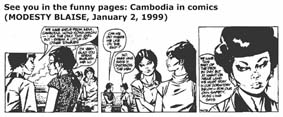 Laws
Politics
Human Rights
Art & Culture
Environment
Drugs
Other sites of interest
Cambodia Yellow Pages and the Cambodia Online Directory.

Cambodia pages on this site
A Tragedy of No Importance
All about the March 30, 1997 grenade attack in Phnom Penh
collected Cambodia photos on this site (in progress)


notes from 1995-97, 1998-99 and 2000 in Cambodia
a FAQ on working at The Cambodia Daily
a wide variety of articles on Cambodia I've written or co-written, mostly for The Cambodia Daily
articles on Cambodia and the Internet
a page about the 1998 elections ( in progress), with a collection of Sam Rainsy Party documents
Cambodian Personalities on Parade -- a short parade at this point
My page of Cambodia travel tips
Patrice visits Cambodia, a travelogue from 1996
---
Other related pages on this site

For other travel information, visit the Camera Obscura.

To explore other parts of the site, go to the main entrance.