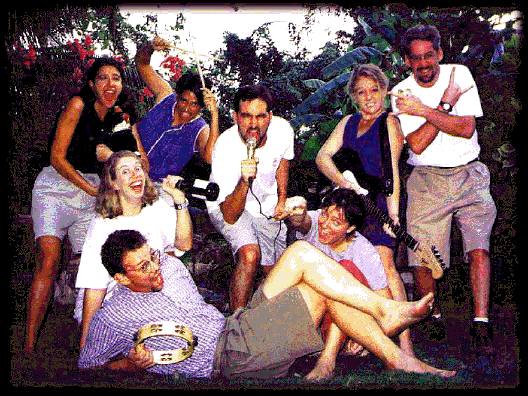 exploded onto Phnom Penh's musical scene in the hot summer of 1998.

Informed by a deep understanding of the roots of the blues and fed by a feverish craving for attention and a desperate need for companionship of any kind, the members of Spank have kick-started Cambodia's somnolent nightclub scene, churning out pulse-pounding, clawing-at-your-face riffs like there's no tomorrow--and probably no yesterday either.

And that can only mean one thing: Phnom Penh is back on the musical map with the freshest, phattest sounds you'll find in any hemisphere you look in. And Spank is leading the way!

NEW! Spank digs in at the starting blocks of the new millennium with a web page at iuma.com where you can download a song or two!

NEWER! Spank kicks off, and also completes, its 2000 world tour in Headlam, England! See it here!





Note from our legal team:
The members of Spank can NO LONGER ACCEPT undergarments sent through the postal system. We appreciate your understanding in this matter.
On this site:
Who is Spank?
Discography
Lyrics
Angry complaints
Dents in the Spankmobile's bumper
since Jan 21, 1999
---
Calendar listing cruelly rejected on Friday, February 12, 1999 by The Cambodia Daily:
SPANK, Cambodia's shamelessly self-promoting rock'n'roll juggernaut, pounds the final nails into the coffin of its current incarnation at the fabled Heart of Darkness bar (26 St 51). The legendary Phnom Penh hit machine will churn out groovy new songs as well as trotting out the phat old faves. It's also a farewell party for Rich Garella, former Daily newshound, outgoing opposition spokesmodel, and icon of rock. Kicks off at 8pm, music starts at 9:30 -- early for the Heart, but hey, it's a school night.

Spanktoid
Spank was first band ever to play Phnom Penh's legendary Heart of Darkness Bar, on February 12, 1999.
Who knew?


FAN MAIL: "Wow, y'know, I felt so alone and I just didn't know where to turn until I found your music and now I am whole, complete - y'know, fulfilled. Rock on" (from Nathan Patmor, of Rock'n'Roll Hall of Fame site runner-up Philadelphia PA)
Who has been Spank?
Joe Spank: popping, throbbing***
Beth Spank: jangling, strumming*
Caroline Spank: clanging****
Rich Spank: howling*
Beth Spank: banging, thumping, howling
Shennia Spank: wailing
Sarah Spank: twanging, howling
Rachel Spank: tinkling**
Rob Spank: some twanging, some banging**

not to mention Glenn Spank on pointing and squinting, and Adam Spank on later howling.

*indicates a demerit for lateness

Spot the Spanksters:: advanced technology tells you who's who and who's not.
By the way, Spank is not to be confused with Spank. Thanks.
Discography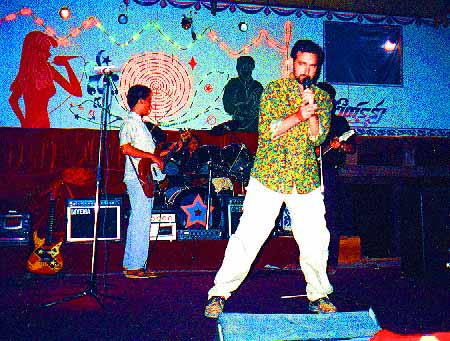 China, February 1999:
Two members of Spank (Rich, singing, and Beth M, on drums) spread the joy of the devil's music in Jinghong, Yunnan, sitting in at a Dai hotspot with local rockers. The tune? Midnight Hour. The time? Around 8:30 pm. The audience? Maybe ten.


Spank is a charter member of the "Keep the Internet Decent for the Sake of Our Kids" campaign. We have selected only our least offensive lyrics here. Other sites are unofficial, and the patently offensive lyrics shown there do not necessarily reflect our actual offensive lyrics. We ask all of you to please Keep the Internet Decent!

Lyrics
(All lyrics are ©Spank 1998, except where stolen from others.)
Come Too Soon
Stephens/Moorthy

(Listen to this song at our new-for-2000 iuma.com site!)

You come too soon
Put those brakes on, boy
You come too soon
You know, I'm not your toy
You come too soon
You don't bring me joy
You come too soon

Cause it drives me crazy
When you do that, baby
You may feel all right now
But I'm still uptight now



Spanktoid
Spank was the first musical act in the entire history of the universe to play Phnom Penh's fabled Heart of Darkness bar, on February 12, 1999!
Who knew?

Gotta slow it down
Stop and smell the flowers
Gotta slow it down
Where's your staying power?
Gotta slow it down
Cause boy, we got hours
Gotta slow it down


| | |
| --- | --- |
| | |
| PHOTOCOLLAGE WARNING: OBJECTS MAY BE MORE TOGETHER THAN THEY APPEAR | THE EARLY DAYS - Beth M. Spank takes over the vocals...you can tell she's Only Happy When It Rains! (Halloween 1998) |
Cause it drives me crazy
When you do that, baby
You may feel all right now
But I'm still uptight now

(Sax solo)

You take too long
What a tiresome female
Take too long
It's a minor detail
Take too long
I gotta check my e-mail
Take too long

Cause it drives me crazy
When you do that, baby
I got things to do now
Getting tired of you, now

Can't do no more
If you can't get your kicks now
Can't do no more
I used up all my tricks now
Can't do no more
They worked for other chicks, now
Can't do no more

Cause it drives me crazy
When you do that, baby
I got things to do now
Getting tired of you, now

(Sax solo)



Spanktoid
The last part to fall off the Spankmobile (1973 Renault 12, thanks for asking) was the exhaust pipe, on National Route 5 near Oudong.
Who knew?

You come too soon
I need a touch that lingers
You take too long
I got aching fingers
You come too soon
Better slow down, boy
You take too long
Get yourself a toy
Cause it drives me crazy
When you do that, baby
And you may feel all right now
But I ain't come all night now!


The Observer Song/Sorted out for MSG

A song about the 1998 Cambodian elections, loosely based on "Sorted Out for E's and Whiz, by an unimportant English band whose name we can't remember because it doesn't have enough letters in it. These lyrics are by C. Williams.

Oh, is this the way they say elections should be run
Or just hundreds of observers flown out here for fun
And I don't quite give a shit about democracy
But that's OK 'coz they're all sorted out for MSG

And tell me when the polling starts
Coz all I have to do is watch something

Oh, in the middle of the count
We say it's sound because tomorrow morning
Oh then we go home

Oh yeah the commune chief was helpful, ticked the box for them
Saw the ballots photocopied out in Kompong Cham
Oh and no one seems to know which formula is real
But that's OK 'coz they're all sorted out for MSG

At four o'clock the FCC seems very, very, very, far away
All right, in the middle of the count
We say it's sound because tomorrow morning
Oh then we go home

Just keep observing

The party agents hassle me, say "much discrepancy!"
And I say "I take note, I will report",
and that's as far as the observation went
I miss my friends, I eat alone
It's six o'clock, I want to go home!
But it's "not yet, come to the PEC"--makes me wonder why I came

And this horrid counting slows and slows and slows and slows
And I want to call Sven Linder and say
"Linder! Am I never coming home again?
'coz they seem to have left an important number of ballots somewhere,
somewhere in a field in Kandal, alright."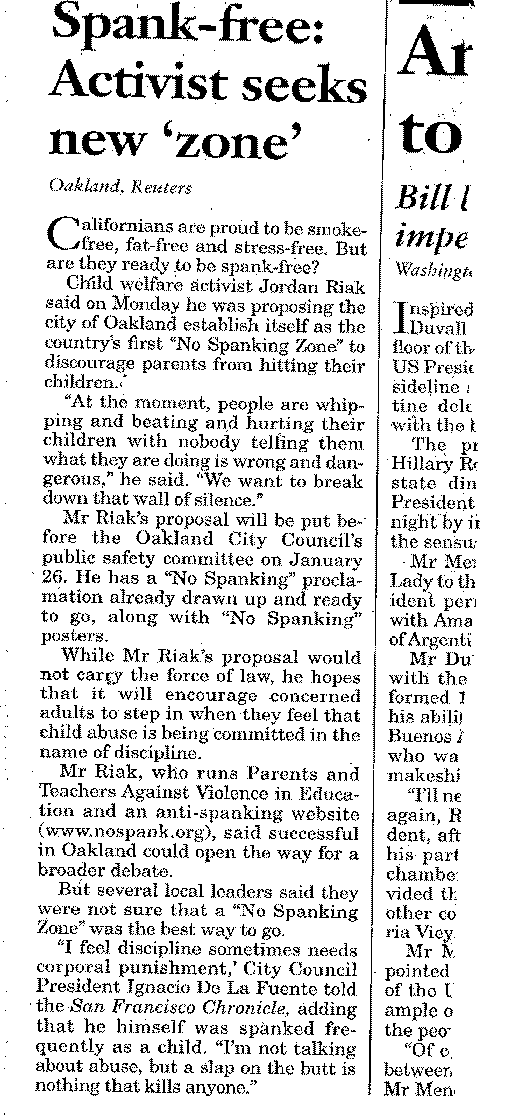 In the middle of the count
We say it's sound because tomorrow morning
Oh then we go home
Oh then we go home

Oh why did we ever leave home?

Angry Complaints
Spank has initiated an international boycott of Oakland, California child welfare activist Jordan Riak and his site www.nospank.org. Click the article on the right to see it in full size.
Please do not visit his unfair site. It is oppressing us.
---

RE: CASE NUMBER 678: COCHRANISATION OF SPANK IMAGE
SPANK VS MR RICHARD SPANK GARELLA
On behalf of myself, my clients and millions of disappointed and disgusted supporters of the band, I would like to express my deep abhorrence for your desecration of the Spank website. Your lack of reverence for the great gods and goddesses of Cambodian rock n roll is deplorable - although as a Spanker in exile such unprincipled attacks, and your lack of understanding of the people you claim to represent and once claimed as your own, do not surprise us. How can you truly understand, Mr Garella, what the fans of Spank really want and need when you spend all of your time outside the country?
I would also note, for your information, that The Venerable Joe Spank is at present not even an active member of the band, having embarked on a sabbatical period in the monkhood as is customary for young men his age. (Joe was last seen transcendentally meditating in a smoky corner of the Heart... but we hope that he will one day return to us, having explored his own personal Nirvana.) Your use of his image not only with hair but also showing a myriad of naked body parts, is deeply offensive to the religious sensibilities of Spankdom.
Therefore, I am writing to advise you that we intend to lodge a formal complaint with the Constitutional Council challenging the legality of your unauthorised amendments to the Spank website, which were neither passed through the elected Spank Assembly, nor approved directly by the people through a referendum of the Spank fan club. In addition, we will be directing a parliamentary question to the Royal Government of Cambodia in the coming week, asking it to explain to the National Assembly and the people of Cambodia why it has so far failed to protect the nation's cultural heritage and support the arts adequately by preventing this illegal interference with Cambodian cultural property by unscrupulous foreigners.
Legal action may yet be avoidable, Mr Garella. We fully espouse the values of peace, democracy, and musical reconciliation and we would like to believe that you do too. But that depends on you. All I ask is that you consider your actions and their impact on the innocent members of Spank and the rich cultural heritage of Spankdom - would you do the same thing to Spankor Wat?
Yours insincerely,
Shennia Spank
Attorney at Law on behalf of Smack, Thump and Whallop Inc,
representing Spank and related industries.
---
Get !