Cambodian Pictures
Life
Photographs taken in Cambodia from 1995 to 1999 by Rich Garella, except where credited to someone else. Photos with a colored border are linked to full-sized images. Click on them for a larger view.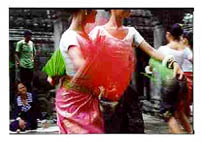 STORIES IN STONE (November 1996) - In a courtyard of Preah Khan (Sacred Sword) Temple near Angkor Wat, young dancers keep traditions alive in a performance from the Reamker, the Khmer version of the Ramayana epic.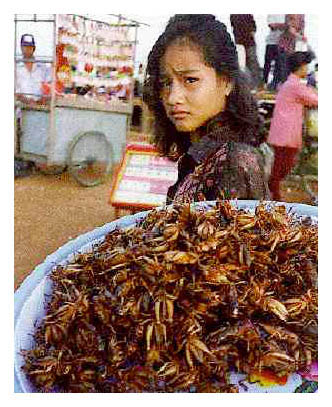 FINGER FOOD (1995) - Taste treats available on the street include spiders, grubs, fried baby birds, stuffed frogs, gingered dogs and fried locusts like these, offered up on the riverbank in Phnom Penh.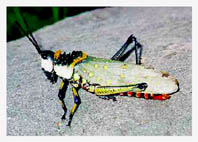 TOO PRETTY TO EAT (November 1996) - I ran across this lovely specimen on Phnom Chisor, a temple mountain south of the capital.

WHEELS ON MONIVONG (May 1997) - A cyclo driver peers over a load of truck tires as he weaves through the traffic of Phnom Penh's main commercial street. In the background is the Hong Kong Hotel and the popular Agfa photo shop, where most of these pictures were processed.
Photo: Abe Goldstein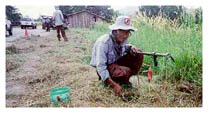 A SQUARE METER AT A TIME (October 1995) - Deminers, like this one working on the shoulder of Route 4 to Sihanoukville, use metal detectors and hand tools to search for land mines. Estimates that Cambodia has nearly 10 million unexploded mines may be exaggerated, but there's no doubt that large areas are unavailable for use because of mines. Many Cambodians are wounded or killed by mines, for example while collecting firewood in the forests. This is known as "clearing mines leg by leg".
But in Cambodia, even something as honorable as mine-clearing can be corrupted. According to a July 9, 1999 Reuters story, an internal memo from the main mine-clearing agency, the Cambodian Mine Action Center (CMAC), confirmed earlier reports that not all of CMAC's internationally funded work was for the benefit of the farmers and refugees who are supposed to gain access to newly cleared land. CMAC teams had "cleared land for military commanders and loggers as well as a former Khmer Rouge officer linked to the murder of three Western tourists," Reuters reported. The illegal use of CMAC teams included work done along Route 4. Is it a coincidence that Ieng Mouly, a former resistance figure, metamorphosed into a political ally of Hun Sen since becoming Minister of Information and being put in charge of the demining agency?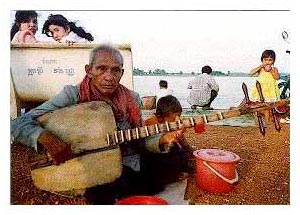 RIVER BLUES (1996) - The sing-song delivery of this blind tchapei player on the bank of the Tonle Sap river reminded me of Mississippi delta blues. You might think he's been in Cambodia all his life. But a friend of mine saw him in France several years back, playing at a music exhibition.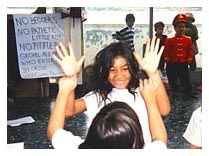 BEHIND THE SCENES (December 1998) - Children playing beggars in the Phnom Penh Players production of Snow White at the Chaktomuk Theater frolic backstage during a rehearsal. Children not playing beggars press up against the glass outside.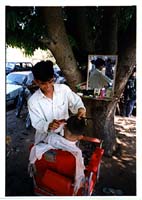 KHMERCUT (March 1998) - Near Wat Botum, one of Phnom Penh's hundreds of open-air barbers wields the clippers on a young client. My favorite was on Street 63 near 310. Best dollar cut I've ever had.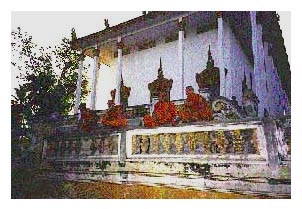 ROBES AT TWILIGHT (January 1996) - Young monks at a pagoda in Kompong Chhnang. Some monks join for life, but many are temporary. Custom dictates that young men should spend at least a short period as monks, in part to show reverence toward their parents. Thousands of temples are being built all over Cambodia. Some replace those destroyed by the Khmer Rouge. Others are monuments to the wealth of individual donors.

---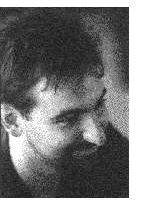 go to top of this page

e-mail me your comments