Summer 2000
1964 Vespa Sprint 150 motor scooter
SOLD!



This early 1960s Vespa VBB has rounded fenders and and round headlight, not squared-off as in later models. A true miracle of Italian design. The scooter was moved to Cambodia, where it survived the Khmer Rouge regime and more--most likely hidden away for years.

I brought it back to Seattle last year, and installed a brand new engine to match the excellent body. The engine is made in India by the company that bought the original Piaggio molds and plans, and is therefore both new and authentic. The styling is all original, but it runs as smooth, steady, and fast as if it came right off the assembly line! Since I'm moving to New York and have no place to keep it, it needs a new owner to lavish it with the attention and love it deserves.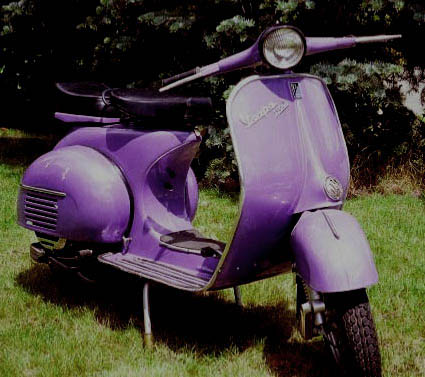 This is a head-turning beauty, a subtly psychedelic dream on wheels that is guaranteed to draw sighs of admiration and undisguised envy wherever you go.

However, this is not a fully restored scooter. There are plenty of projects to keep you busily improving it if you want. But the key thing is that thanks to the new engine you can ride it reliably from day one. The essentials are all in place and it looks great too.

The details: Four-speed, kick-start with lots of original parts and detail. The body is in excellent shape, repainted in metallic violet. It has the original levers and rubber handgrips. All the other rubber (floor rails, boots, pedal pads etc) is new or newish. Wheels have been converted from the standard 8" to 10". The lights, horn and choke all work. The speedometer is vintage but doesn't work (a new cable is included but you would have to replace or repair the speedo itself). Both tires and the spare are near-new. Seats are reupholstered and perfect. The bike is registered and titled in the state of Washington, USA.

What else is new? The entire exhaust system, carburetor, everything! The fuel tap and line; rear brake drum; rear rim; regulator (12v) and most of the electrics; throttle, clutch and gear cables; headlamp and more.

The price is $3300, but I will consider reasonable offers.

Click the links below for more pictures.

front view - original chrome detail. Color is glossy metallic violet, professionally painted. One scrape on the paint on right fender is not from a crash, just shipping. You can match it and repair easily.

front left view - seats are reupholstered and perfect.

rear left view- The original holder and a spare wheel with tire are included; I removed them for more leg room. The cargo door even has a black rubber gasket and working lock.

one-piece headset - original levers and grips (protected by leather covers in the photo).
---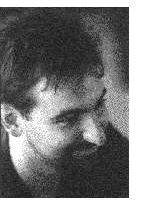 go to top of this page

e-mail me your comments