Travel Tips
Laos
I don't really have any right to claim extensive knowledge of Laos. I present it only as a side trip from Cambodia. If you are reading this early in 1999, the limited information here might at least be fresh.

These suggestions are based on my experience at the end of 1998. I flew up from Cambodia, where I live, just after Christmas and left Vientiane on the first plane to leave Laos in 1999, which is "Visit Laos Year". No special treatment on the way out though.
Money
As in Cambodia, cash is best, though credit cards are more in evidence, especially in Vientiane. Also as in Cambodia, dollars (and to a lesser extent Thai baht) are accepted in the main towns, along with kip, which at the beginning of 1999 were running 4200 to the dollar at hotels and banks. On the "black market" the deal is about 5 percent better. Look for young guys hanging around in touristy areas, especially in Luang Prabang. They will approach you.
Visas
are supposed to be available on arrival at the airport in Vientiane during Visit Laos Year. Check first. The Lao Embassy in Phnom Penh (on Mao Tse Tung Blvd just west of Norodom) requires $35, two photos and a working day to put a one-month single-entry tourist visa in your passport.
Arriving by air
Lao Aviation does a roundtrip on Monday and another on Friday. They are crowded, becasue RAC's Wednesday roundtrip was discontinued near the end of last year. So now there are only 2 flights a week.

Lao Aviation is said to be one of the most dangerous airlines in the world, with antiquated planes only a loose nut away from falling out the sky. Could be, but they haven't had a crash since 1993, helped no doubt by having so few planes. It's rumored that the United Nations and the Australian Foreign Office forbid their staff from flying on Lao except in emergencies. Domestic flights are said to be the riskiest, as the planes are never checked by technicians at a real airport such as Bangkok's.

Worse than the state of repair of the planes, which didn't bother me a bit, seeing as the none of the ones I was on hit the ground before they were supposed to, is the requirement that you reconfirm your flight from Luang Prabang the day before, and the ludicrous and ignorable instruction to get the airport two hours early.

Reconfirmation takes place in a small office where there is no booking computer (despite the extraordinarily low inter-provincial phone rates), just a mob of people and some guys with handwritten lists and a single telephone. If you don't have much time in Luang Prabang, you will resent spending any of it here.

To/from the airports: Vientiane's Wattay Airport and Luang Prabang's airport are both only ten-minutes from town by taxi. Drivers will attempt to charge you several dollars, but 5000 kip is enough, less if you share. There will be one guy who speaks some English; tell him where you are going and he will make sure your driver knows how to get there.
Where to stay Vientiane The Vissana, off Samsenthai road, is recommended for comfortable $10 rooms, though it was fully booked up when I arrived. Saysouly guest house (856-21-223-757, on Mathatulath road (running perpendicular to the riverfront) has $8 singles, shared bath and was clean and comfortable enough). The Lao International (216-571), on Francois Ngin road two blocks west, has cozy rooms with private bath for $10. Both of the latter are half a block from the riverfront, where there are a few restaruants. Word was that the outside eateries on the riverbank itself --not only in Vientiane but in Luang Prabang as well--were to be closed by government order on January 1, 1999.
In Luang Prabang
There are many guesthouses, both in the cute section of town and farther west. Ban Lao (71-252-078), next to Wat Manoram, offers $5 singles with private bath and has moderately serviceable bicycles for 2000 kip a day, which is good because it's slightly off the main road where you can get a ride. Keopathoum guest house (212-978) is about the same price but the room I saw was a little nicer. It's on a more major road, Thanon Phu Wao, so it's easier to find a ride if you don't have a bicycle. It too is a bit far from the cute part of town.
Internet access
In Vientiane, walk-in access has been available for a few months at PlaNet Computers. In Luang Prabang, there's walk-in access for reasonable rates upstairs from the Scandinavian Bakery (a branch of the one in the capital), in the heart of the main drag of the peninsula, Rue Sakkarine. It's run by the aforementioned PlaNet Computer shop of Vientiane. The dial-up is made all the way to Vientiane, but somehow the phone call is only six cents a minute, so the access rate is reasonable. By contrast, in Cambodia inter-provincial calls are nearly $1/minute, so store-forward e-mail is about all you can get outside Phnom Penh.

See also my Camera Obscura, where there are links to lists of Internet access points in Southeast Asia and the world.
Getting around in town
To my exasperation, the streets in Vientiane and Luang Prabang are not teeming with an uncontrolled mob of motorbike taxi drivers as in Cambodia. It's possible to look around for a while before seeing an available tuk-tuk, a little three-wheeled pick-up with tiny benches in back, or jumbo, a smaller version built up from a motorbike. Just wave them down. There don't appear to be any moto-taxis.

In Luang Prabang there is yet another variant on three wheeled transport, a motorbike with a bench seat attached on the side, with an outboard wheel holding the thing up. It's like a lateral sidecar with a little roof on it. You feel a bit like you're sitting in a garden swing--one that's bouncing along the road at 40 km/hr.

In any case, just wave them down and then say where you want to go (or point the way) and pay reasonably at the end: about 1000 kip for any ride under ten minutes or so. All of them, like the aging taxicabs, are neatly and officially labeled with their height, width and length and the maximum number of passengers. This could not be more unlike Cambodia, where I have witnessed eight human beings riding a single motorbike and legal license plates are seen as a bit of a curiosity.

In another mark of sophistication,bicycles are available for rent all over Luang Prabang for next to free. There are also several places to rent motorbikes, at about $7/day. Two of them are within steps of Lao Aviation, another is near the museum.
---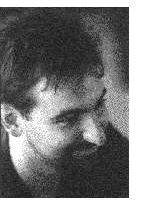 go to top of this page

e-mail me your comments